To remain competitive, your business IT systems need to not only protect you against cyber attacks and inefficiencies, but also actively help your business improve by aiding productivity.
Maybe you don't have the budget for a team of in-house IT professionals, but you understand that generic, one-size-fits-all IT solutions just won't cut it for the needs of today's businesses. You need to find an IT partner that will be an asset to your business.
When you're looking for a new Denver IT services provider, there are some key factors you should take into account to make sure you find the right partner for your business.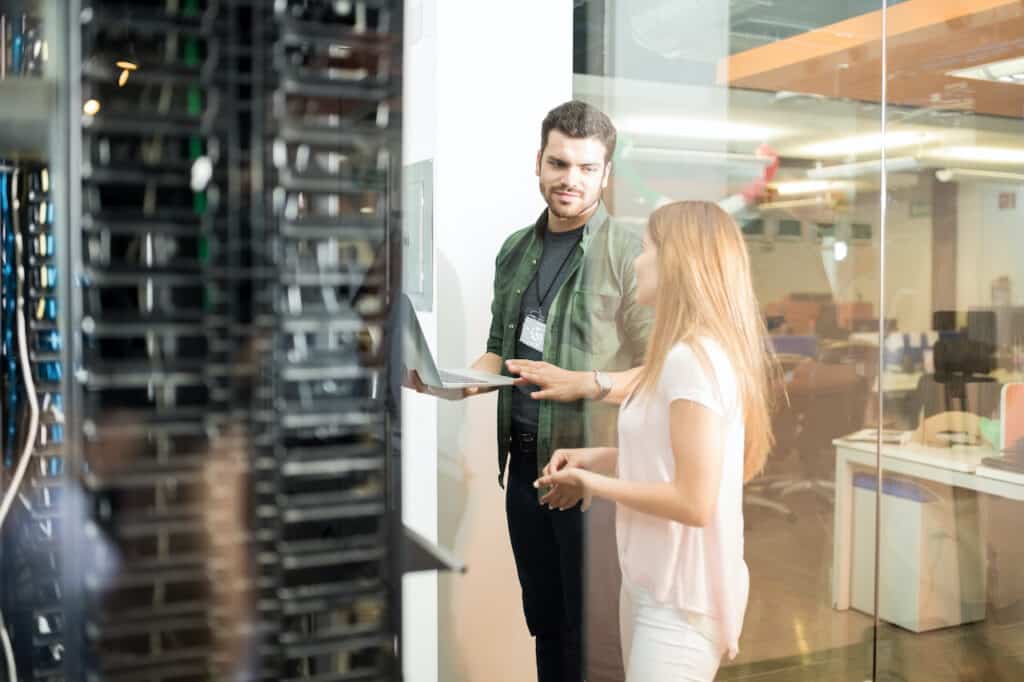 Top 6 Things to Look For in a Denver IT Service Provider
With so many options for IT support in Denver and across Colorado, how can you determine the one that's best for your unique organization? Here are six characteristics to look for when choosing a Denver IT services provider:
1. Proactive Approach
When looking for an IT provider, you should consider their approach to problem-solving: do they take a break/fix approach, waiting until something goes wrong to fix it, or take preventative care to stop issues from occurring?
Think mitigation instead of reaction. It's much easier to prevent losses through proactive measures than to run damage control after a breach. We consider risks and plan for them beforehand, protecting you from downtime, breaches, or other interruptions.
Working with a Managed Service Provider (MSP) is a good way to ensure your IT gets a proactive approach. The managed IT services model incentivizes your provider to put real effort into preventing IT issues from the beginning, instead of using a model where they make more money the more problems you have for them to fix.
2. Experience
An IT provider with years of experience in the technology industry will be able to solve your problems faster, recommend tried and tested solutions, and use industry relationships to get you better solutions at more affordable prices. A professional provider will have a long history of quality service and satisfied customers.
As a local MSP in Denver with decades of experience, we've seen nearly every type of IT problem you can imagine in industries across the board. Our experience enables us to solve even your toughest problems and draw on our wealth of specialized knowledge to give you the very best IT solutions.
3. Prioritized Cybersecurity
Cyber attacks are at an all-time high as cyber crime becomes more prevalent by the day—and the United States is ranked number one in "significant" criminal hacking activity. You may think that your organization isn't a target for cyber attacks, but you might be surprised by the four most targeted industries—and by the data showing that small businesses are nearly as likely to suffer attacks as large ones.
If you work with information technology, cybersecurity likely is (or should be) at the top of your priorities. Some causes for concern include:
You need an IT provider that prioritizes your cybersecurity through a multi-layered approach that includes data security, cloud security, and network security with solutions including constant monitoring, data encryption and backup, real-time threat prevention, security awareness training, and more.
Your IT provider should evaluate your business's needs and specific vulnerabilities to tailor a cybersecurity plan that will strengthen any potential weaknesses and leave your systems as secure as possible.
4. Honest Communication and Partnership
Poor communication is the leading cause of project failures, in the realm of IT and beyond. You need a partner who can not only solve your IT problems, but will communicate well with you in non-jargon terms, keep you updated on progress, and be quick to respond.
A good Managed Service Provider views your business as a partner. Your ideal company will have excellent communication skills, strive to build a respectful rapport, be honest about their abilities, and overall better equip you to improve your organization's strategic IT standing.
5. Customized Strategy, Aligned with Your Goals
Your MSP should get to know your business and its goals so they can create a customized strategy that aligns with your requirements. There isn't a one-size-fits-all approach to security and IT strategy. The perfect Managed Service Provider will touch base with you regularly to maintain strict alignment of your IT with plans and projections.
An experienced company will have experience in different specialized industries and the knowledge of how to unify your vision with cutting-edge IT solutions that further your success.
6. Unrivaled Support
If you have an urgent security issue or are facing unexpected downtime, you can't be left waiting for an IT provider to respond. Long stretches of downtime can break your organization. Your MSP should have a support system that:
Operates 24 hours/day, 7 days/week
Allows you to note the severity of your issue
Responds immediately to emergencies
Prioritizes your organization in downtime
Offers remote and on-site support if needed
Bottom Line—Work with the Best Managed Service Provider for Your Denver Business
If you want to improve efficiency, save time and money mitigating risks, and avoid costly data breaches and equipment repairs, TrinWare offers unparalleled value. We're a true partner that will look out for your bottom line, protect your sensitive data, and help you continue growing through world-class, Next Generation IT services.
Reach out today to learn more about how truly proactive, customer-focused IT services for your Denver business can help you thrive.