The Best Esports Setup: How to Select The Right Technology For Your Event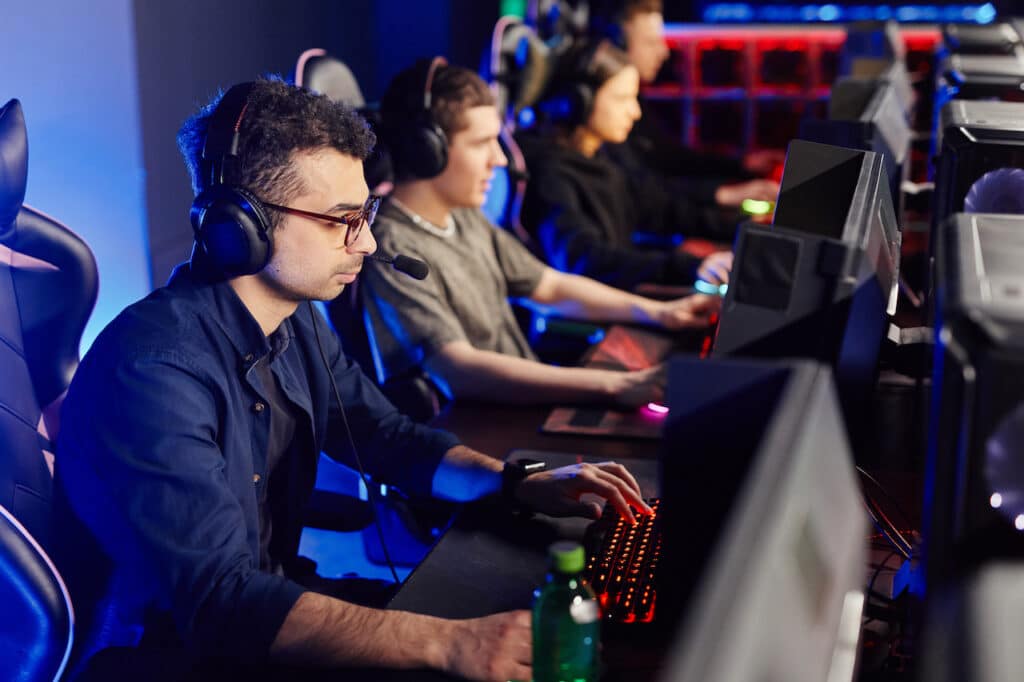 The top ten esports companies are worth a combined total of $3.5 billion, suggesting that professional gaming has become a major industry. What makes the gaming industry so appealing to many is that anyone can become a professional esports player with the right setup. Selecting the best professional gaming setup, however, is not a simple task.
Esports equipment comes in all shapes and sizes and selecting the right esports setup requires careful consideration and research. Learn what the professional gaming setup looks like.
Esports Booming Popularity
Thanks to pop culture and online streaming platforms like Twitch, the professional gaming scene has exploded in popularity over recent years. In 2022, there were over 532 million global esports viewers watching professional gamers compete in esports tournaments around the world. This rapid growth and worldwide interest in professional gaming has left many people with a desire to join in on the fun.
However, professional gamers need to be equipped with the right technology to make sure they have an edge over their opponents. Whether you are an aspiring professional gamer or someone looking to host esports tournaments with your friends, having the right esports equipment is key to ensuring a professional setup.
What Professional Gaming Setup Is Best for Esports?
Luckily, there are a variety of options available on the market that provide professional gamers, tournament organizers, and esports enthusiasts with the gaming setup they need to win.
Gaming PC
The most important part of any professional setup is a powerful gaming PC. Gamers can choose to look for a high-end gaming PC with a powerful processor and an NVIDIA GeForce RTX 2070 GPU. This ensures that professional gamers have the power they need to stay ahead of their opponents.
Gaming laptops are a great affordable alternative for those just starting out in professional gaming. However, gamers should keep in mind that laptops often lack the power of a traditional gaming PC, so having a powerful desktop can be an important advantage for any gamer.
Processor
A good processor can mean the difference between winning and losing when gaming. Look for processors with multiple cores and high clock speeds to ensure you have enough power for quick reactions and smooth gameplay. Intel Core i7 and AMD Ryzen 7 processors are great choices for gamers.
Monitors
Having multiple monitors is key to any professional gaming setup. Gamers will need at least two monitors to ensure they can track their opponents while also keeping an eye on their own gameplay. Professional gamers should look for monitors with high refresh rates because this will ensure smoother and more responsive gaming.
Keyboard and Mouse
A good gaming keyboard and mouse makes all the difference for gamers. Look for mechanical keyboards with customizable backlighting and macros to give you the edge you need while playing competitively.
Additionally, consider investing in an ergonomic mouse with adjustable DPI settings to maximize your precision and accuracy during intense gaming sessions and to protect your hands from fatigue or injuries.
Headset
A professional gaming headset will allow you to stay connected with your teammates and opponents without any interference or lag. Look for headsets that have noise-canceling technology and comfortable ear cushions to ensure complete focus on your game.
Graphics Card
To ensure a smooth and uninterrupted gaming experience, invest in a graphics card that can handle all types of graphics-intensive games. Professional gamers typically look for cards with high clock speeds and at least 6GB of video RAM to ensure they get the best performance out of their gaming setup.
Create Your Esports Setup with TrinWare
At TrinWare, we specialize in professional gaming setups and esports equipment. We provide gamers with the right technology they need to be successful in professional gaming. Our powerful PCs are custom-built to ensure gamers are getting the most out of their gaming setup.
Whether you are an aspiring professional gamer or an esports enthusiast, create your professional gaming setup with TrinWare today!