All the Hardware and Equipment You Need for Your Remote Employees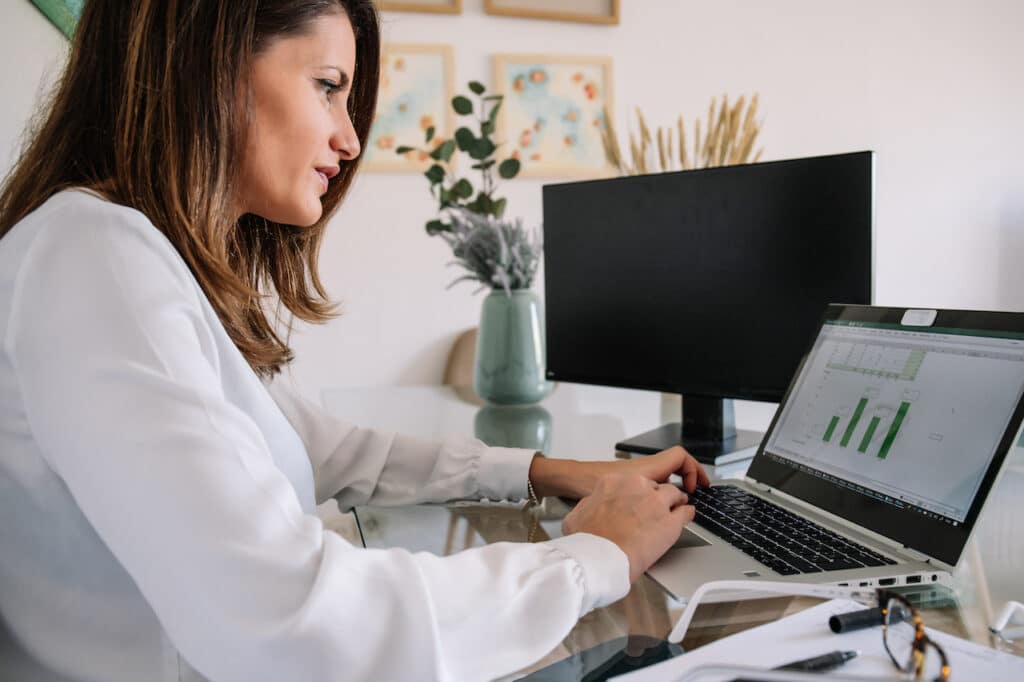 After the pandemic forced businesses to close down offices and move operations remotely, the shift to work from home solutions has presented challenges for businesses of all sizes. Employees need access to the same tools and resources they would have in a traditional work environment, but often they are left with limited IT support.
Even after the pandemic, over 68% of Americans still prefer remote work over working in an office. With the rising popularity of work-from-home options, businesses need to continue to invest in remote work solutions to retain their employees and provide the necessary hardware, such as work from home computers, and equipment for better work productivity at home.
Learn what equipment is necessary to provide a secure remote work environment, so your employees can work efficiently and stay engaged wherever they set up office.
The Challenges of Working Remotely
Working from home comes with its own set of challenges, from tech issues to security breaches to productive work habits. Employers must be prepared to address these issues and provide the right work from home solutions for their remote employees. These challenges include the following:
Shipping the proper equipment to employees
Keeping networks and systems secure
Ensuring compliance regulations
Troubleshooting technical issues
Verifying productive work hours
Achieving a smooth transition into work-from-home life means that businesses must be aware of the challenges their employees may face and take the right steps to set their remote employees up for success.
Ensure Compliance with Regulations to Avoid Penalties
Employees must understand the compliance regulations that apply to their work. For instance, work from home computers will need to meet specific security standards, such as data encryption and secure communication protocols.
If these regulations are not met, companies can face hefty fines or worse: permanent closure of their business. Employers must work with their IT teams to ensure work from home solutions comply with industry regulations and have the necessary equipment for employees to keep data secure. Data security is so important to maintain because data is the currency for malicious actors.
The main challenge, however, with ensuring compliance while remote is the difficulty in verifying that employees keep work from home computers and other devices up-to-date. Fortunately, businesses can implement work-from-home policies to keep employees compliant with the necessary security measures.
Create and Implement a Work from Home Policy for a Productive Environment
To create a productive work environment, businesses should guide their employees on how to work remotely. This includes setting work hours, providing office equipment and supplies, and communicating expectations for work performance.
A work from home policy establishes guidelines to keep remote work running smoothly and ensure employees have the resources they need to be successful.
Work from home computers, for example, will need to have the necessary hardware and software requirements to work with company systems. Employees should also be aware of data security protocols and understand how their work from home computers are used within the network.
Use the Right Hardware and Software to Get the Job Done
When investing in work from home computers and other hardware, it's important to consider the needs of remote work. Businesses should provide work from home solutions that work best for their employees and fit into the company's budget.
Computer and Monitor
A work from home computer and laptop should have enough RAM and storage to work efficiently with work-related software and applications. Investing in a larger monitor can also help employees work more productively, as they will be able to view multiple windows or documents at once.
Webcam and Microphone
Video conferencing is an essential part of work-from-home life, so it's important to provide work from home computers with webcams and microphones. This allows employees to communicate in high-quality audio and video during virtual meetings or conversations.
Headsets
Investing in a good headset with noise-canceling capabilities can help remote workers stay focused on work tasks and maintain better communication during work calls.
Printers
Many companies allow their remote employees to print documents on their work from home computer's printer. If employees work with large-scale documents or need to print in color, they may require a larger printer that can handle the workload.
External Hard Drives
External hard drives can be useful for storing work documents in case of computer failure. They are also helpful for transferring large files between work from home computers and work servers.
Security Software
Businesses must also invest in security software to keep work from home computers secure. This includes anti-malware and antivirus solutions, as well as firewalls to protect the work-from-home network from malicious actors.
Additionally, businesses should work with their IT teams to implement protocols for password protection and data encryption on employees' computers and other devices.
Productivity and Collaboration Tools
Work from home computers must have collaboration tools such as Microsoft Office that allows employees to work together in real-time. Other types of tools include cloud storage solutions to store work-related files, messaging applications for work communication, and video conferencing tools to host virtual meetings.
Set Your Work from Home Employees Up for Success Using TrinWare's WFH Solutions
TrinWare's work from home solutions makes it easy for businesses to equip their remote workforces. We provide the hardware, software, and security tools needed to set your employees up for success.
Our WFH Solutions not only provide IT support, but we also help your business with the remote work migration process which includes the following: complete procurement and production, employee onboarding and offboarding, cybersecurity, collaboration tools, and more.

Talk with one of our experts today to see our business hardware selection and how TrinWare's work from home solutions can help set up an efficient and secure workstation for your remote workers.