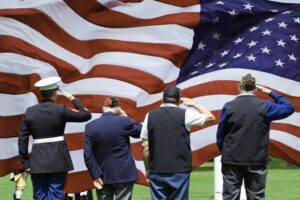 Veterans Day is the day that we honor all of those who have served our country in war or in peacetime – dead or alive. The intent is to recognize the service and thank our living veterans for their sacrifices. Originally, Veterans Day was called Armistice Day and it commemorated the end of World War I. That is why it is recognized on the eleventh hour of the eleventh day of the eleventh month when the German's and the Allies stopped fighting in 1918.
We, in the US, officially recognized November 11th as the end of the war in 1926 and in 1938 Armistice Day became an official national holiday, primarily set aside for World War I veterans. But after World War II and the Korean War, Congress, in 1954, amended the commemoration to Veterans Day so it would honor all American veterans of all wars.
This day is not only remembered in the US. This is a day of remembrance for all of the allied countries from World War I. Canada, Australia and Great Britain all celebrate Remembrance Day in various different ways but for them it is traditional to wear red poppies in remembrance of Flanders Fields as written by John McCrae. So take time today to thank a veteran for his or her service.
"In Flanders Fields" by John McCrae
In Flanders fields the poppies blow
Between the crosses, row on row,
That mark our place; and in the sky
The larks, still bravely singing, fly
Scarce heard amid the guns below.
We are the Dead. Short days ago
We lived, felt dawn, saw sunset glow,
Loved and were loved, and now we lie
In Flanders fields.
Take up our quarrel with the foe:
To you from failing hands we throw
The torch; be yours to hold it high.
If ye break faith with us who die
We shall not sleep, though poppies grow
In Flanders fields.