What Gaming PCs Do YouTubers Use?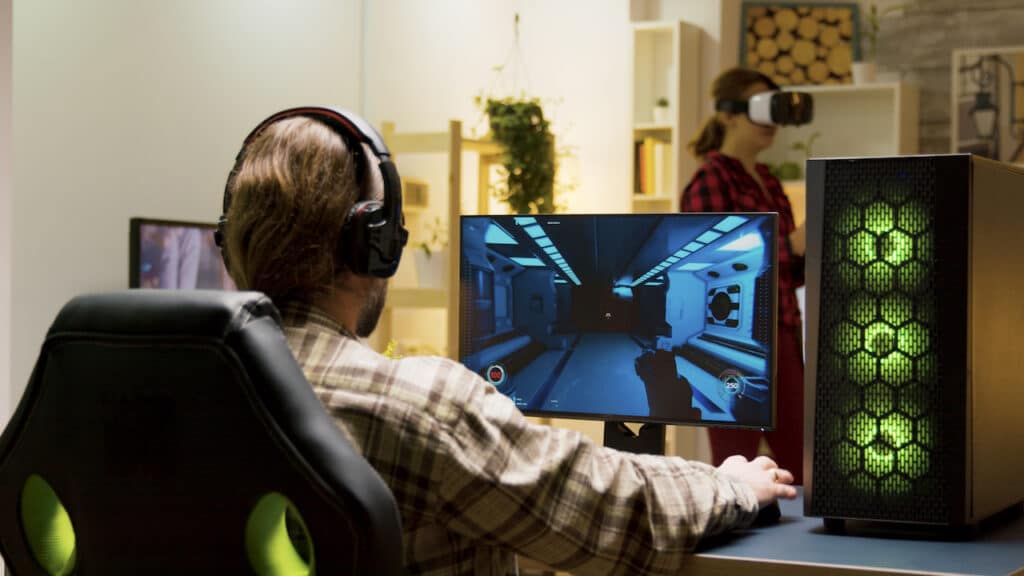 Gaming PCs are the most popular type of computer for gaming. And the gaming community has exploded in popularity after YouTubers started playing games on their channel. It's no surprise that people want to know what kind of gaming PCs YouTubers use.
Here are some of the best gaming PCs on the market and how you can build up your own gaming setup.
What Gaming PCs do Famous YouTube Online Gamers Use?
When looking for a new PC to buy, it is often helpful to know what kind of machine the pros are using. There are many different types of gaming PCs on the market, but by looking at what some of the most famous online gamers are using, you can get a good idea of what kind of machine you need in order to enjoy the latest and greatest games.
PewDiePie
Felix Kjellberg, better known as PewDiePie, is the most popular YouTuber in the world with over 100 million subscribers. PewDiePie first gained popularity with his hilarious gameplay commentaries and has since expanded his channel to include a variety of different content.
PewDiePie's setup is designed for both gaming and content creation on YouTube. This allows him to easily switch between playing the latest games and editing his videos with ease.
Here is his current YouTube gaming PC setup:
PC: Cobratype Yarara with RTX 3080 Ti
Case: Lian Li Lancool-205M Black (Fans Included, 2x140mm 1x120mm)
Power Supply: 800W 80+ Gold certified PSU
Motherboard: ASRock Z590 Phantom Gaming 4/ac
CPU Cooler: Proprietary Cobratype 120mm Closed Loop AIO Liquid Cooler
CPU: Intel Core i9-11900F Processor
Video Card: EVGA GeForce RTX 3080 Ti XC3 GAMING
Memory: 2x16GB sticks (for 32GB total), DDR4 RAM
Software: Windows 11
What Specs Do Professional Gamers Look for in a Gaming PC?
When building or buying a new gaming PC, there are several key specs that professional gamers on YouTube look for.
First, they want a machine with a powerful processor. This ensures that the machine will be able to handle the demands of the latest games. Some good processors for those on a budget are the Intel Core i3-12100F and the Intel Core i3-12100. And if you can splurge on your processor, the best one in the market is the six-core 12-thread Intel Core i5-12400.
Second, they want a graphics card that can provide them with smooth and realistic graphics. Two great and affordable graphics cards are the AMD Radeon RX 6800 XT and the Nvidia GeForce RTX 3060 Ti. The best graphics card currently is the Nvidia GeForce RTX 3080 10 GB.
Third, professional gamers also want a lot of RAM. This ensures that their machine will be able to handle all the demanding games without any lag or slowdown. A good amount of RAM for gaming is 32GB.
What Is the Cost of These Gaming PCs?
The cost of these gaming PCs can vary depending on the specific hardware that is included. However, expect to pay at least $1,000 for a machine that meets the minimum specs that professional gamers look for.
What Gaming PC Should I Get?
The gaming PC that you ultimately choose should be based on your specific needs and budget. If you want the best possible gaming experience, then you should look for a machine that has high-end hardware like the Alienware Aurora R13. However, if you are on a tight budget, then you can still find a quality gaming PC for under $1,000 like the Acer Predator Orion 3000.
No matter what kind of machine you choose, make sure that it has the right specs for the games that you want to play. This way, you can enjoy your favorite games at the highest possible settings.
Get Gaming Equipment with TrinWare
TrinWare is your one-stop shop for all your gaming needs. We carry a wide variety of equipment you can use to build up your gaming setup. We have everything you need to boost your gaming system. And if you need a custom-built computer, we can do that for you as well.
Check out our online store today to get started on building your ultimate gaming PC.