The Challenge:
One of the biggest struggles for any company, big or small, is managing their IT hardware lifecycle. Finding a holistic approach to managing the total useful life of IT hardware helps to maximize your return on investment (ROI) and ensures little to no downtime for your end users.
The Solution:
Lifecycle management is really a simple concept; repairing, upgrading, or replacing your IT hardware in a timely manner to secure a maximum ROI). And even though a simple concept, companies generally need the help of a partner to optimize their technology environment. Afterall, as a business, you're an expert with the services/products you provide to your customers, however, that doesn't necessarily translate into being able to get the most from your IT landscape.
Hardware can be expensive however; you should be able to get the most value possible from it without compromising performance.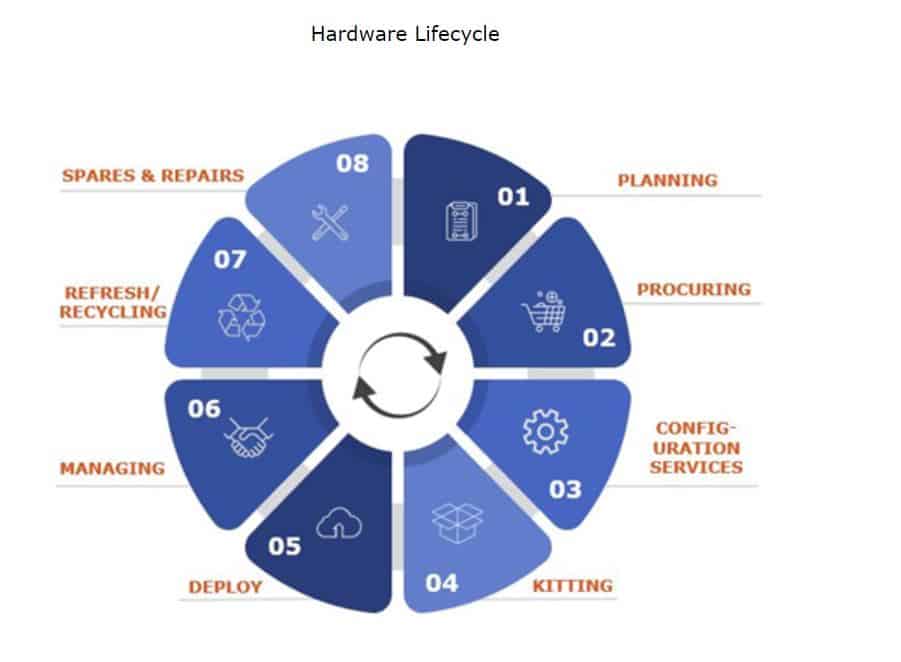 speak with one of our harware specialists today
There are four lifecycle main stages, to keep it simple:
Plan: What do you need? How soon? For whom? (Psst, most hardware suppliers will quote you a bulk discount if you can procure multiple systems with one order.)
Deploy: How long does it take you to get equipment up and running from delivery to desk (or rack)? Is everyone local or are your employees distributed throughout different locations, perhaps remote or maybe a hybrid office model?
Manage: Who is doing your required updates? How long does this take? What about physical maintenance? How long can your end users be down?
Refresh: Do you buy computers and servers as their performance deteriorates? (Please say no.) Is there a mass refresh that leaves gaps in your total return on investment? What is the cost of your time and the staff's time to oversee this project?
What to look for from a hardware partner:
Plan: Engage a dedicated

hardware services team

to assist creating a roadmap for the fiscal year. This ensures your organization gains the greatest benefit from the money spent and also assurance that you always have the proper equipment for maximum productivity. Additionally, a partner that can either produce custom built products or resells all the major Original Design Manufacturers (ODMs) is your ideal option, catering to your in-house preference/s.

Deploy: A partner with a state-of-the-art tech facility can assist with timely rollouts of either 1 to 100's of systems. This provides technical flexibility whether your IT environment's needs are best suited to custom built systems or purchases from an ODM. At a high-tech stop they will be able to image, update, sync, and asset tag every piece of IT hardware you own.
Manage: You're also seeking a hardware partner with extensive experience and knowledgeable engineers. They should be utilizing the latest and greatest toolsets so there is confidence they can support your technology environment or any unique requirements you may have. Additional questions to think on: Do you have the manpower to physically maintain your whole environment? And how about remote sites, too? How long can you afford to have your network down or your employees be offline? A skilled hardware team can manage this on your behalf mitigating this risk and providing peace of mind.
Refresh: You know you're with the right hardware company if they're making recommendations to minimize your total number of purchases by utilizing a tech roadmap. This type of guidance lends to building a strong and transparent relationship. If they also have the capability of offering finance options, this too works in your favor. Having these choices (rental and/or lease) gives you the freedom to refresh many items during set timeframes helping with decreasing any possible downtime. Note, too, that an established hardware partner will be able to leverage their many ODM relationships as they buy on behalf of a multitude of clients. Therefore, they can typically pass on that savings to you (due to buying in bulk) for better and more aggressive pricing.
What's Next:
Let's be honest, the time and effort to deal with a company's entire IT hardware lifecycle is an arduous and tedious exercise entailing constant responsibility. However, a trusted hardware partner can offset this laborious task. Call TrinWare today and let's get this off your plate so you can move on to what you really want to be doing, growing your company, and changing the world.
Speak with one of our hardware specialists today