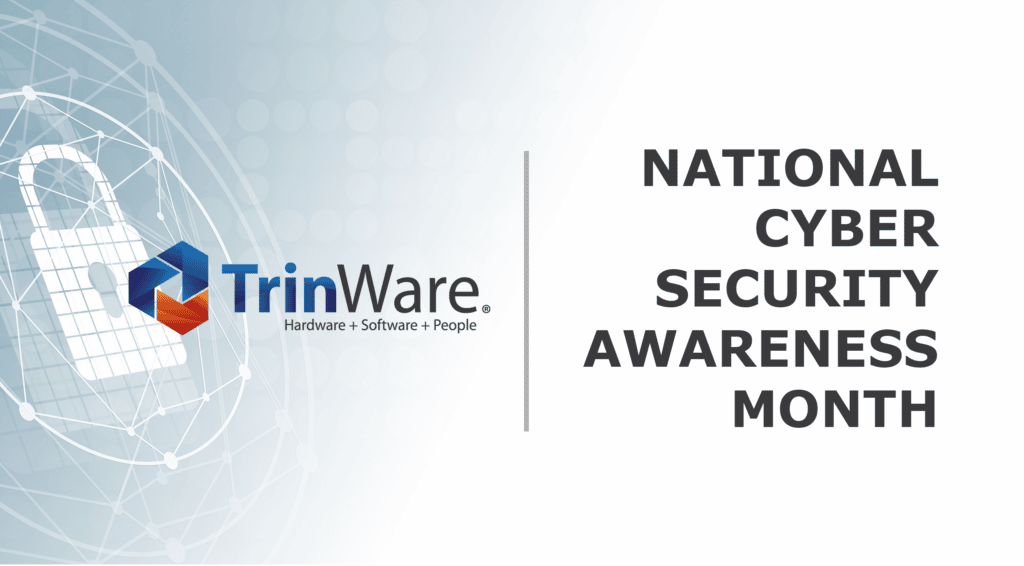 TrinWare Celebrates Cyber Security Awareness Month for October
TrinWare is celebrating Cybersecurity Awareness Month! Every year in October, a collaboration is made between government and private industry to raise awareness about digital security and empower everyone to protect their personal data from digital forms of crime.
It is a month dedicated to raising cybersecurity awareness, educating your employees on how to better protect the organization, and ultimately creating a stronger cybersecurity culture.
This year's campaign theme — "See Yourself in Cyber" — demonstrates that while cybersecurity may seem like a complex subject, ultimately, it's really all about people.
Cybersecurity affects more than just the online world. Just one clicked-on phishing link can leak personal data, cause confusion, and can possibly change lives.
Here are some tips to increase your Cyber Security Profile:
Think Before You Click: Recognize and Report Phishing: If a link looks a little off, think before you click. It could be an attempt to get sensitive information or install malware.
Update Your Software: Don't delay — If you see a software update notification, act promptly. Your best bet is to turn on automatic updates.
Use Strong Passwords: Use passwords that are long, unique, and randomly generated. Use password managers like Keeper to generate and remember different, complex passwords for each of your accounts.
Enable Multi-Factor Authentication: You need more than a password to protect your online accounts, and enabling MFA makes you significantly less likely to get hacked.
In today's hybrid work environment, your users are more susceptible than ever to attacks like phishing and social engineering. Cybercriminals know this and are constantly changing tactics to exploit new vulnerabilities.
This is why TrinWare has partnered with Keeper and Bullphish ID to keep you and your business safe from phishing attacks, password hacking and more. Click on the links to find out more information.